Cleveland's Trusted Electricians
Spartan Electrical specializes in on-the-job problem solving, providing you qualified electrical service in a timely and cost effective manner.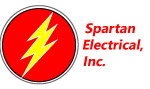 Trusted, Qualified, Experienced Electrical Contractors
Master Electricians
More Than 50 years experience
Bonded, Licensed, and Insured
Commercial, Residential, and Industrial
Contact us today!
You can also reach us through The Blue Book.
From Our Clients
"As you know there is a lot of pressure on General Contractors to get jobs done on time and within budget. Spartan Electrical understands that and goes to great lengths to make sure the electrical is done on time, every time." –Julianne Nadar, Project Executive, Regency CSI